Cardiff Curry Restaurants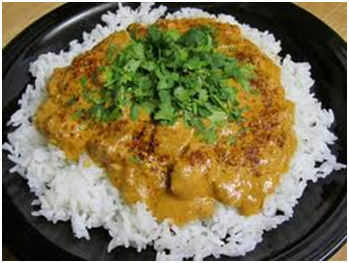 What is an Indian curry? What we recognise as a curry is not something that the people of India recognise. The name is subject to debate, but a consensus agree that it originates from the Tamil word 'kari' meaning spiced sauce.
It is generally agreed that the word originated in India, and was adopted by the Raj. When English merchants first set foot in Surat in 1608, it was thought to be the start of the romance between the British people and the curry. In fact King Richard 1 (1189-1199) had overseen a revolution in English cooking using most of the herbs and spices we use today in curries.
The commonly used base spices and herbs often include coriander, cumin, cardamom and turmeric. These can be augmented with mustard seeds, bay leaf, black pepper, chilli pepper, cloves, coriander, fenugreek, cinnamon, ginger and nutmeg. Red chilli powder, garlic and salt are used to vary the intensity of the flavour.


The specific balance and use of these spices will alter with the season, the region, whether you are cooking meat, fish or vegetables. or even the occasion. However the spices are proportioned the individual ingredients each have their own benefit. Cumin and mustard are warming herbs and Fennel seeds are cooling; however they both aid digestion. Turmeric is an extremely effective anti septic and is said to purify the blood.


Fenugreek is rich in Folic Acid and Vitamin B, and can assist in reproductive disorders. It is established that it also stimulates blood development and may promote hair follicle development as well as fighting infections.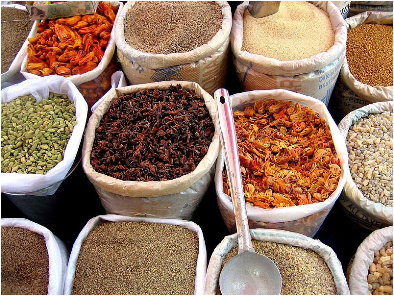 Coriander is effective against flatulence, and black pepper is known to be high in chromium this stimulates appetite and may have a role in diabetes prevention.
The British have very much adapted the curry to their taste. Chicken Tikka Massala is a classic example with chicken tikka referring to chicken marinated and cooked on skewers in a Tandoor oven. A sauce (Massala) was added to please the British and their desire for gravy with meat. It is only quite recently that it has started to become popular in the Indian sub-continent.
There is huge variety of curries; countries such as Sri Lanka, Bangladesh Pakistan, Malaysia, and Indonesia all have different styles of curry. Indeed there is a north-south difference within India itself.

Cardiff Curry Types
Chicken tikka Masala; bit of a national favourite this one. The chicken can be substituted by fish, paneer (cheese cubes) or even lamb. The sauce is mild and creamy with tomato.
Korma another creamy curry predominantly cardamom and cinnamon or clove rather than black peppery hot or strong spices.
Madras Curry is spicy. From southern India goes with most meats and vegetables, expect chillies!
Jalfrezi is dry fried curry with green peppers, green chillies onions and tomatoes in a clingy spicy masala sauce.
Vindaloo, expect red chillies and strong hot sour flavours, usually goes with meat. A speciality from central, SW India.
Rogan Ghosh is an aromatic curry dish. The meat is cooked in clarified butter with paprika, aniseed, cumin, cinnamon and cloves. Ginger and yoghurt may feature, and tomatoes increasingly so.
Balti may refer to the region of Northern Pakistan, Baltistan where people cook food in a cast iron pot or from the Hindi word balti, which means pot.
It certainly came to prominence in Birmingham in the 1980's and spread to the rest of the UK in the 90's Balti is eaten from the serving karahi (the Balti serving pan) with rolled up nan bread contains fried green peppers and fresh coriander. Medium hot.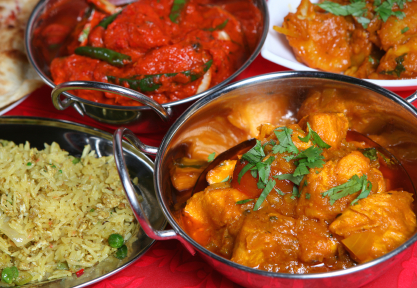 There are many more styles so try out a Cardiff Curry to explore the menu!
To try out your Cardiff curry you first have to find a good venue. Cardiff curry restaurants come in two main styles. The contemporary restaurant with clean lines and a bright modern feel, alternatively the traditional curry restaurant has more of a late evening, Indian lager feel about them.
All the restaurants mentioned here have been recommended as worthy of a visit. However, there are many more that undoubtedly should feature here, so if you know of one, let us know in the comments box at the end of the article.
The Cardiff Local review is divided into areas, so you should be able to find a restaurant close to you.
Cardiff Curry restaurants in Canton
Canton is perhaps the best served area in Cardiff to get a quality Cardiff curry.
The Cardamom is an award-winning restaurant falling into the contemporary category.
The Star of Wales is a traditional restaurant, good portions of meat. It is popular early evening, and also popular with local clientele.
Jinuk Quality curry house Canton Indian restaurant of the year back in 2003, hasn't lost its touch, popular with the media and not too far from town. Many people's favourites
Purple Poppadom in Canton Contemporary nouvelle cuisine "always at the heart of Purple Poppadom is our love for creating imaginative Nouvelle Indian Cuisine based on our wonderful culinary heritage" Self explanatory.
India spice is a curry house; they have tended to concentrate on take aways, however, still worth a visit as a good turnover in the kitchen usually means good food.
Love Curry is a highly rated delivery service serving West Cardiff regularly gets 4 and 5 stars.
Janata Palace Very well recommended, Tandoori mixed grill a real meat feast. Traditional restaurant with traditional decor.
Vegetarian Food Studio Cafe style restaurant, take your own wine. Award winning food that belies that fact that vegetarian restaurants are bland. Good size portions and helpful explanation of the menu.
Cardiff Curry Restaurants in Roath
The Himalaya in Wellfield Road, Roath Medium priced curry restaurant, probably the best in the area, especially late at night.
The Mirchi is a café style in Roath. Really good food here, an excellent vegetarian menu as well, they prefer you not to drink alcohol on the premises. With the food as good as this it's no great loss. Fresh ingredients and great taste.
Haveli, A light and airy restaurant, tasty and interesting menu, ask about the dishes they are very helpful here. Contemporary art work and a good atmosphere.
Cardiff Curry restaurants in Cardiff Bay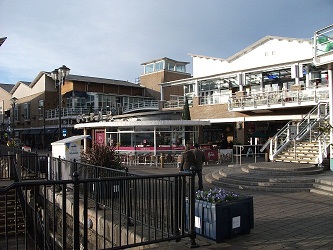 Spice Merchant – A contemporary and classy Indian Restaurant with superb decor. Well-crafted food in an impressive building.
Moksh Located in Cardiff Bay, this is traditional Indian food with a Goan influence. Contemporary decor, when a treat for wives/girlfriends is required.
Spice route, Not actually in the Bay but over in the Red dragon centre. They promote themselves by saying, "Using local welsh produce with the finest ingredients, our majestic pots reveal generous servings of Indian, Thai, Pakistani, Malaysian & European cuisine.
All dishes are full of flavour at an unbelievable fixed price!"
Cardiff Curry restaurants in Heath
Mint and Mustard, Contemporary style, Mint and Mustard is currently in the 2012 Michelin Guide. It offers contemporary food with impeccable service. Probably the best Indian in Cardiff
Panama Tandoori a longstanding traditional restaurant (1976), which tells its own story, excellent Bangladeshi food with a very welcoming smile. Try the Tandoori!
Cardiff Curry Restaurants in Birchgrove
Jamuna Complete with Bollywood on the screen. Fine food here fish particularly tasty, delivering to most of Northern Cardiff
Cardiff Curry restaurants in Cardiff Centre
Juboraj Mill Lane Contemporary One of several restaurants in the Juboraj group. Others are in Rhiwbina, and Lakeside. Excellent Indian and Bangladeshi curry, at the more expensive end but not exorbitant.
Mango House on Westgate Street, occupying formerly Cardiff, Grand Hotel, a contemporary Indian restaurant. Being in Westgate street busy on match days. Very good food, keep for special occasions.
Mobile phone chargers for pubs, clubs and hotels…
Cardiff Curry restaurants in St Mellons
Shamrat in St Mellons. Not at all central but very good curry restaurant, always busy, so get organised to get the best out of your evening.
Cardiff Curry restaurants in Pontcanna
Cinnamon Tree Pontcanna Curry house Good quality traditional type of Indian restaurant, has a good local following. Make sure you are not in the takeaway queue
Cardiff Curry restaurants in Whitchurch
The India gate If you still love the old style diners and just enjoy a really good curry then this is the place for you. Well established and going strong.
Kafe La Indian Restaurant. A reliable curry house with good portions and attentive staff. Prices are very fair.
02920 20611633 or 07845 705568
Kafe La Indian Restaurant
Llewellyn Street
65 Merthyr Road
Whitchurch
Cardiff
CF14 1DD
Email: restaurant@kafelaindian.com
Indian Khazana
Adjacent to the India Gate, a good find, quality of the tikka is excellent and a comprehensive vegetarian menu.
Good food with a very reasonable price, best in the area for value.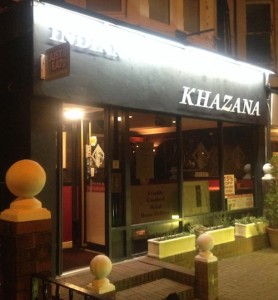 Cardiff Curry restaurants in Rhiwbina
The Gateway of India chilled curries. Not a restaurant, but a chilled curry delicatessen. Very clean and with weekend offers. Curry often tastes better when it is marinated.
Juboraj (Rhiwbina) previously mentioned, the original Juboraj. Food is good even when full.
Cardiff Curry restaurants in Cathays
Akash take away. Old-fashioned curry restaurant reputed to be the oldest in Cardiff. All chicken is off the bone, and staff are very welcoming
Balti King is excellent for a take away, fresh food and often with a discount. So value and quality what more can you ask?
Mowgli's Cathays Real napkins, outstanding food with clean and fresh interior. Above average curry house with an imaginative menu.
Balti Cuisine Woodville Rd. Well reviewed traditional restaurant in Woodville Rd. Very good value for money, with friendly service.
Kasturi No license so take your own beer or wine, good food, good service and good value, this restaurant has worked out the balance between flavour and strength, very good fish and chicken dishes.
http://cardifflocalguide.co.uk/cardiff-curry-in-the-bay-moksh/
www.cardiff-fishing.co.uk     www.krishna-indian-malta.com
www.cardiffsailing.co.uk        http://cheap-proof-reading.com
www.cardiff-drain-clearing.co.uk
www.cardiff-pension-review.co.uk
_ cardiff curry, south wales curry, cardiff curry restaurants, cardiff curry houses, cardiff nightlife review, cardiff indian food.