CHAIIWALA TEA ROOM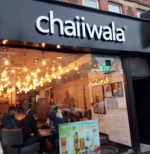 Restaurant Description:
Our story
A dream to make a simple living to feed his family and send his kids to school. It all started 90 years ago, in the markets of Delhi. His wife was known for her tea across the neighbourhood and he saw an opportunity to capitalise.
This is a growing chain that offers different aspects of Indian food, try their teas or colds drinks and deserts as well as traditional British Indian food as snacks.
KARAK CHAII
ROTI
STREET FOOD
FALOODA – Mango flavoured cold drink
Deserts, Ice creams, sundaes
Send Message to listing owner
Listing Title: CHAIIWALA TEA ROOM