BWYTA BWYD BOMBAI (3B's)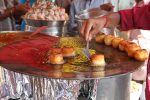 Name:
BWYTA BWYD BOMBAI (3B's)
Restaurant Description:
Bwyta Bwyd Bombai (3B's) – which simply means Eating Bombai ( mumbai) food, thrives to bring the best of Mumbai Street food to Cardiff . Authentic and delicious street snacks and mini meals brought to you for a taste experience of its kind. A very interesting fact about street food is that it entices all your senses i.e the sense of touch, smell, vision and taste. We too give you an opportunity to entice all your senses and encourage you to eat your meals without the aid of cutlery.
Send Message to listing owner
Listing Title: BWYTA BWYD BOMBAI (3B's)