BOMBAY GRILL INDIAN RESTAURANT and LOUNGE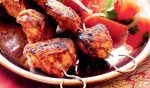 Name:
BOMBAY GRILL INDIAN RESTAURANT and LOUNGE
Restaurant Description:
BOMBAY GRILL is the most popular Indian takeaway since 1980. During the years we have built a reputation for the quality of our food which is reflected in our clients appreciation, some of whom have been with us since our opening.
Our Chefs uses only the freshest and highest quality ingredients to create authentic Indian food based on classic formulas with modern and imaginative approach. He has been involved in the Indian restaurant trade for numerous years and his culinary expertise is apparent in the delightful Indian dishes that he creates.
Our sensational food is rivalled by only one thing; our dedication to serving up an impeccable customer experience for you. We have a free home delivery service.
Send Message to listing owner
Listing Title: BOMBAY GRILL INDIAN RESTAURANT and LOUNGE